Kitty Daniels


Kitty, the D.A.'s niece (Teri Hatcher) teasing an aroused and tortured Dan in "Who Was That Masked Man?" in Season 5.
Vital statistics
Gender:
Female
Occupation/
Career:
College student
Character
description:
Niece of Dan's boss, who's visiting town; tempts Dan's resolve when she lusts after him, as he is instructed to show her about town, but not to get involved with her romantically
Related to:
District Attorney Vincent Daniels (Uncle)
Appearances/Series information
Appeared on:
Night Court
Episode(s)
appeared in:
"Who Was That Mashed Man?" (Season 5)
Played by:
Teri Hatcher
Kitty Daniels is a character who appears in the episode of Night Court, titled "Who Was That Masked Man?" in Season 5. The part of Kitty is played in the episode by future Lois & Clark: The Adventures of Superman TV series and Desperate Housewives TV series star Teri Hatcher.
About Kitty
Nn the episode "Who Was That Mashed Man?" Dan has to fend off the amorous advances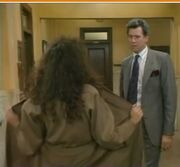 of Vincent's visiting niece, Kitty (Teri Hatcher) as he has to try to let her down easy, and not offend overprotectine uncle Vince. As the episode progresses, however, it seems to be intimated that Kitty may have been given the scoop on Dan by her uncle. District Attorney Vincent Daniels, as it also seems that she was sent to taunt, tease and tempt Dan, as Vincent had instructed Dan to show Kitty around town, but not to have his way with her, which completely totures him, as the ever pulchritudinously sexy niece of Vincent, who is visiting from Indiana, constantly sends lustful overtures to Fielding!
Before she readies to return to Indiana, she says goodbye to Dan, as Vincent was about to take to take her shopping, as she teasingly showed the drooling Dan, as she flashed him, saying. as her uncle walked away, to Dan "All this time in New York City, and not a thing to wear"! wearing possibly, as it's intimated, nothing under an overcoat!