Mr. Douglas

Mr. Douglas, the father of Patty, fiancee to Dan as played by Stanley Brock, offering Dan big money not to wed his daughter "Married Alive" in Season 2.
Vital statistics
Gender:
Female
Occupation/
Career:
Wealthy businessman/entrepenuer with possible criminal ties
Character
description:
Offers Dan $50,000 for him not to wed his socially awkward daughter, as Dan declines when true feelings develop for the two start dating and contemplating engagement
Related to:
Patty Douglas (daughter)
Appearances/Series information
Appeared on:
Night Court
Episode(s)
appeared in:
"Married Alive" (Season 2)
Played by:
Stanley Brock
Mr. Douglas was a character who appeared in the Season 2 episode of Night Court titled "Married Alive". The part of Patty is played in the episode by Stanley Brock.
About Mr. Douglas
Mr. Douglas is a wealthy entrepenuer who, as Dan inquires, "owns 28 shopping centers, 62 hotels, and a small town in Ohio?",disapproves of the impending engagement of this socially awkward daughter Patty, whose limo driver ran into a horse and carriage driver in Central Park; they were brought into court after the carriage driver threated her driver with a whip, as she agrees to buy the carriage owner a new Thuroughbred as compensation for damages, as the case is dismissed. After maybe a week or two of going out togehter, Dan, who tried hard to persuade the others that he wasn't just going out with Patty because of her money, really finds that the two have a sort of chemistry together, as they both begin to develop feelings for one another. When Mr. Douglas, who is quite overprotective of Patty, and refers to her as "a lump!", offers Dan money to not date his daughter, Dan, who really was beginning to fall in love with Patty declined, as he turned down his final offer of $50,000!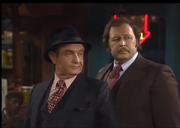 Anyhow, Patty winds up bowing out of the engagement to Dan, as her father threatens to disinherit her if she went through with their impending nuptials.
After Mr.Douglas's financial offer to Dan was turned down, he, who apparently has criminal ties as well, tells Dan "If I hear that you've slept with Patty, it's soprano city!", as his driver/vailet and goon Biff (Patrick Wright) says in very high pitched voice, which belies his hulking presence "And he means it, too!"