Phyllis

Phyllis introduces herself to the guys in "Married Alive" in Season 2.
Vital statistics
Gender:
Female
Occupation/
Career:
Exotic dancer, Anything Goes Entertainment
Appearances/Series information
Appeared on:
Night Court
Episode(s)
appeared in:
"Married Alive" (Season 2)
Played by:
Micole Mercurio
Phyllis appears in the Season 2 episode of Night Court titled "Married Alive". The part of Phyllis is played by veteran stage/TV actress Micole Mercurio.
About Phyllis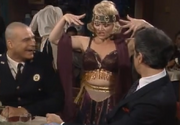 In the episode "Married Alive", When Dan plans to marry a wealthy but socially awkward business/entrepenuerial heiress named Patty Douglas (played by Mimi Kennedy), Bull, wishing to help Dan celebrate, hires Phyllis, who says she "entertains", as in eastern style/belly style, as she tells Harry, "just to earn some extra money while her kids are in school or at scout meetings".
When she begins her "act", she unethusiastically reads from a script "Hi, I'm Phyllis...and I'm here ta...(she takes out her scripted note)...drive you into an frenzy of uncontrollable desire!" As she begins to dance, she nondescriptly says "And no touching!" "This is from Bull!" A very unaroused and unimpressed Dan asks Bull "Couldn't find any socks, could you?!"
When Patty's father Mr. Douglas arrives at the bar and grill where the gang meets to check out Dan, he introduces Phyllis as his sister, saying about her act "That's great...I think that the guys at the VA are gonna love that!" "Now listen, you tell Mom and Dad I said Hi, okay? And that I love 'em!" as he helps her gather up her things as she leaves saying "And they tell me to expect this sort of thing when men reach their sexual boiling point!"